In house skills and expertise
Concept visualization
Project management
Prototyping and development
Physics & mathematics capabilities
Design and 3D visualization proposal
Manufacture (full capability see below)
Large scale assembly area
Full system / machine wiring
Full system / machine programming (plc-pc-nc)
Commissioning and physical production simulation
Full system/machine installation at clients premises
Onsite commissioning.
Life time product support
Onsite training
Existing system decommissioning
Production concept consultation
Profile
ARB Automation Ltd, was established in November 1995. The experience and technical ability with in its walls has a long and accomplished history reaching back to 1978. The company's main expertise lies within the design, development, manufacture and integration of special purpose machines and robotic systems, their design and innovation having their roots in the injection moulding industry. In 1999 in addition to complex automated systems, the company started designing and manufacturing Leak decay machines & pressure test rigs. ARB now offers an extensive range of expertise within the whole sphere of automated production, supplying bespoke and turnkey systems to a variety of clients.
A typical automatic MIG welding machine
Component Component tooling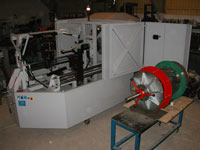 Welding Machine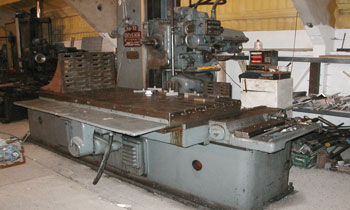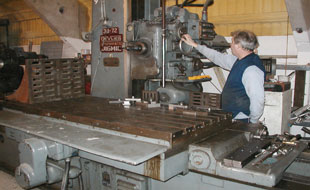 The Devlieg 38 x72 Jig Mill is our largest machine, It is primarily used for machining and planning the tooling plates welded to our machine frames which are also all manufactured in house. Its machining capacity is X=3m, Y=1m, Z=1m